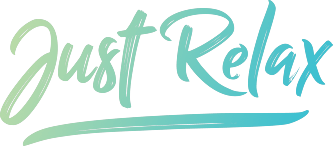 An expert in interior design, Thomas N. Bock, tells us about his journey and design preferences.
Classic and modern
For Thomas N. Bock, quality and individual comfort are paramount when it comes to furnishings. The interests and preferences of the customer are of particular importance to him, because only in this way can the occupant feel at home in his four walls. Combining the classic with the modern, that is the great goal, which is implemented in the private as well as in the hotel sector.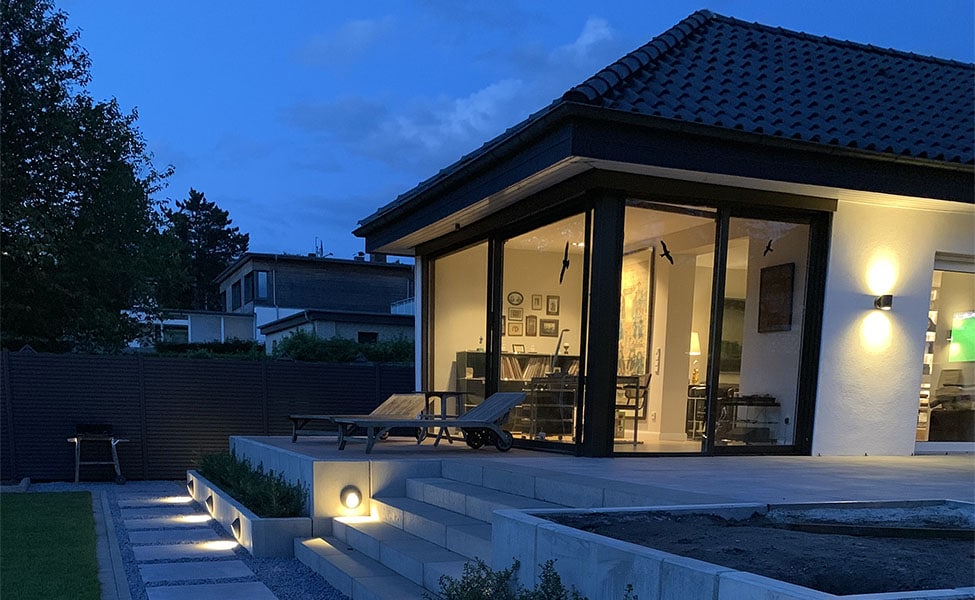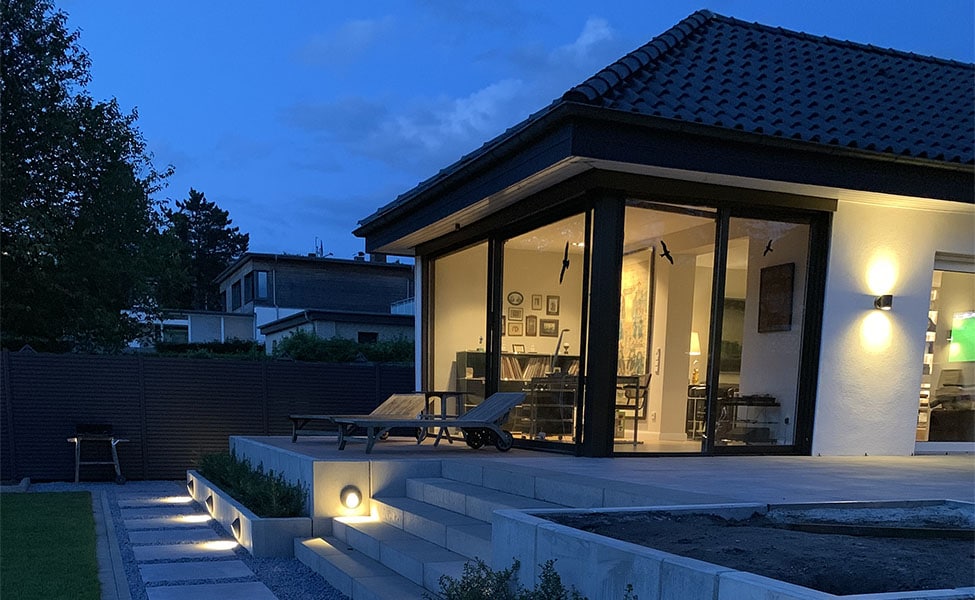 Family Matters
How did you get into interior design?
I have a hereditary background, both my father and my grandfather worked in the field, so it was clear to me from an early age that I wanted to work in this profession.
How would you describe your own interior design style?
We always try to create timeless modern furnishings that are tailor-made for the customer. This is adapted to their needs and not subject to any trend.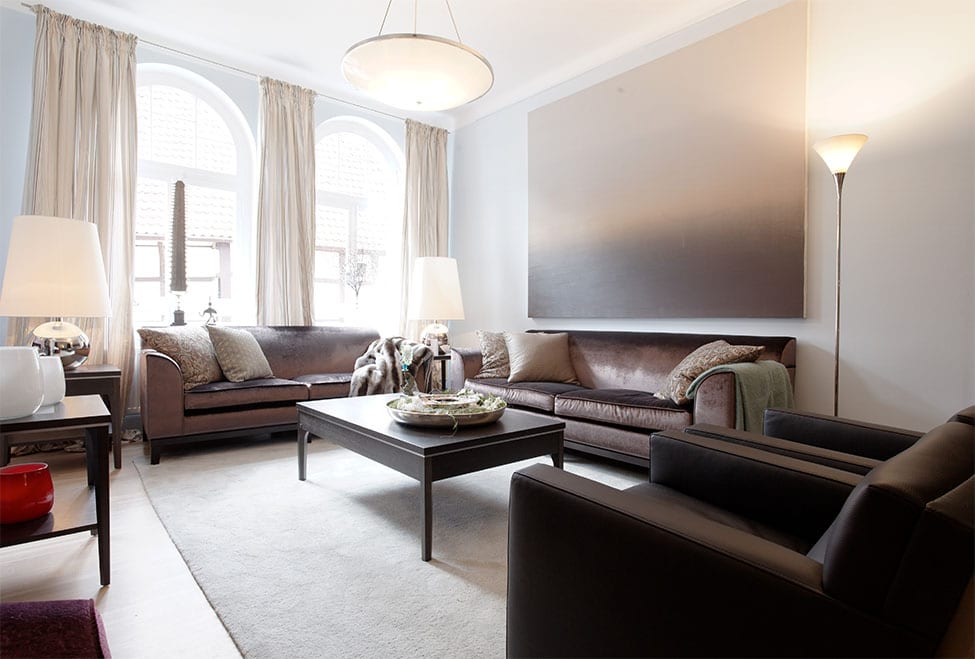 To what extent do rooms reflect people's personalities?
For me, it is quite important that a room does not look decorated, but represents a collection of things that have become dear to us. We attach great importance to the fact that the customer does not get a completely new interior, so that no foreign body feeling arises and things that are important to him are really taken into account. Just tailor-made like a suit from Zegna or Kiton. For us, it has a special charm to combine antiques with modern furnishings and thus tell stories that you can enjoy every day when you have the ambience in front of you.
What are the biggest challenges in the projects?
Big challenges are architectural constraints, for one. We had a project near Aachen, a building from 1790, where the architecture is very idiosyncratic. The task there is to carefully find contemporary solutions. Integrating staircases or elevator shafts are challenges that make our profession so versatile.
What kind of facility would make you unhappy in the long run?
It's quite difficult to say what kind of style it is, because it's not a style I could imagine living in. When you see the flyers from discount furniture stores in the ad magazines, well that would be my nightmare personally, to live happily with that kind of furniture.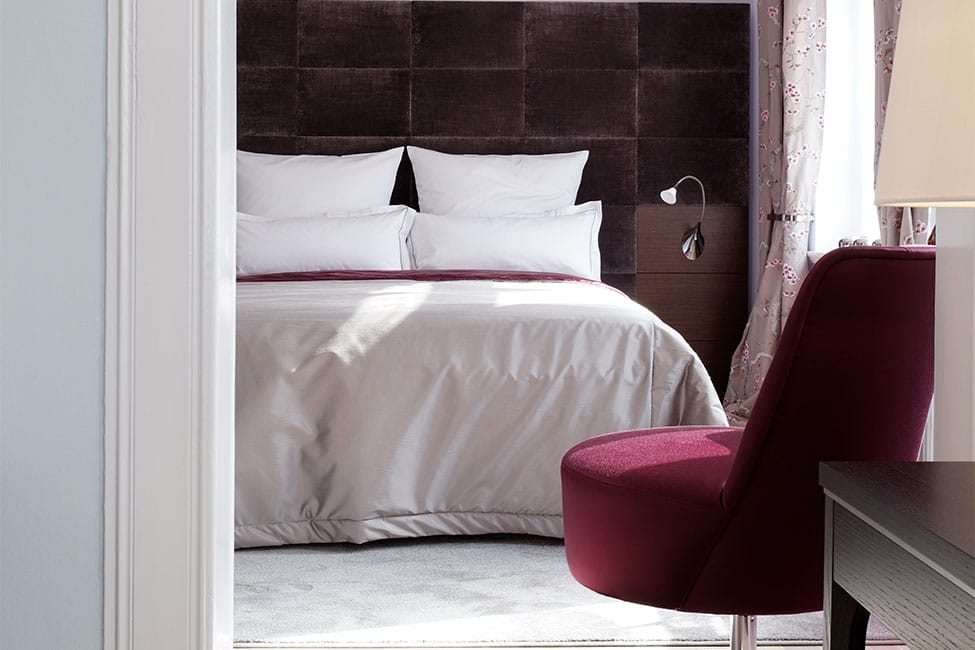 What three items could you not do without at home?
This is firstly the dining table, this is essential for me because in our house our children still live at home. The dining table is the meeting place where we eat together and communicate together. On the other hand, there are two or three pieces of furniture that have become very dear to me. Things that I bought right after graduation when I got my first job. They are timeless Bauhaus furniture by Le Corbusier and Eileen Gray, which I still have today. Things that I really enjoy. But my absolute favorite designer is the American John Hutton, who unfortunately passed away a few years ago. In my job at the time, I worked with him to develop furniture for the European market from prototype to series production. I was able to learn an incredible amount from him. That also awakened my weakness for the classic-modern style of furnishing.
What is the most important space in the house for you personally?
The most important space is the connection between inside and outside. If you don't live in an apartment but have a house, the outside is just as important as the inside. That's why we recently started designing the exterior for our clients. This ranges from architectural designs on the house to garden design. The symbiosis of outside and inside, i.e. the overall concept, is crucial.
What are inspirations for you in the design process?
You get a lot of inspiration from nature, just from the color combinations that occur there. When you walk around awake, you can soak that up. Yesterday, for example, I also found inspiration in a very mundane way during Sunday's crime scene. The shoot was in a minimalist villa in Dresden, a kind of Bauhaus architecture in the Gropius style. If you have a trained eye and can take in details, then that's just as much an inspiration as visiting museums or exhibitions. And of course, for us, the international fairs in Milan and Paris are a place for creative input. That's always a pleasure for us.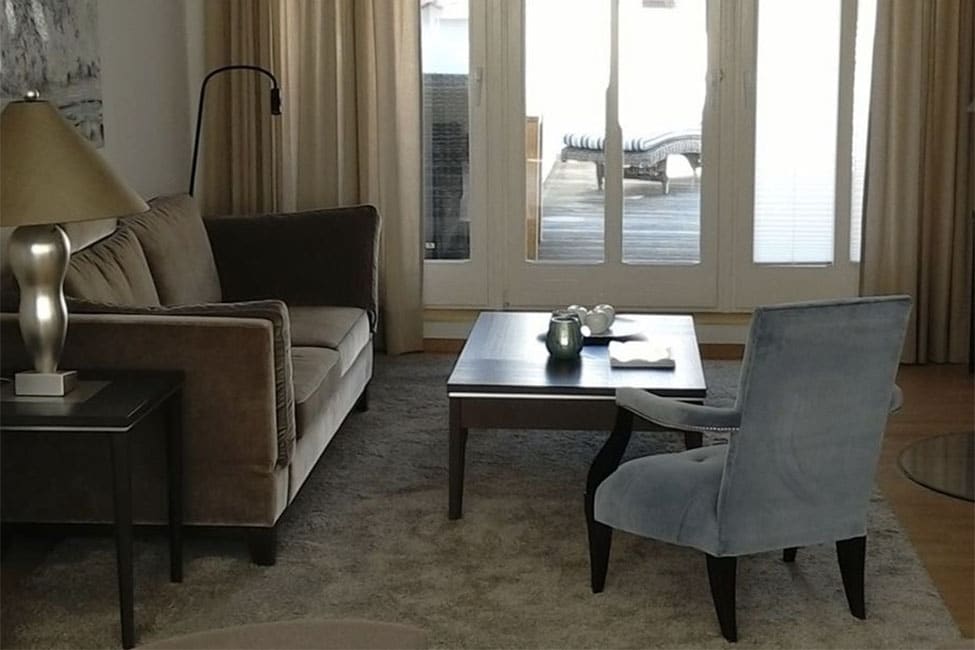 What importance does the materiality of objects have for you or also for the customer?
So for me personally, materiality is extremely important because haptics and visuality form the interplay of whether you feel comfortable or not. Of course, I generally prefer a fabric made of a high-quality mixture of fibers, i.e. natural materials, rather than a synthetic. Synthetics are very popular because of their good wear properties, but for me the visual appearance is sometimes more important than the function. This must be clearly communicated to the customer that it is a hobby. But for the customer, of course, the utility factor is also very important, so you always have to try to find a compromise between appearance and utility. We also prefer to use real wood materials rather than decors, but sometimes there's no getting around it. The decisive factor is always the customer's requirements and the results of the needs analysis.
What do you wish for the future in the field of architecture/interior design?
I think an important factor is not to throw all traditions overboard, but to keep in mind what has proven itself. That is also part of culture, I think, to create a living ambience that is not only subject to function. Through the media age in which we currently find ourselves, the temptation is of course great that everything is only functional. There are now the studies already for urban centers that one needs to only 30/ 40 square meters of individual living space, if one has common, public areas complementary to the life. There one must see, where then the trend finally goes.
To what extent can "beautiful" homely spaces influence a person's life?
In the private sphere, it should be an oasis of well-being. They should be places where you can recharge your batteries for everyday life. Above all, it is quality of life that we want to convey. That you enjoy things. Even a cool ambience can be homely. For me, it is homely when furniture is comfortable, whereby I don't mean furniture with function, but comfortable in terms of quality. The fact that you also work with colored walls, that creates coziness. At the moment it is also very much wallpaper. And what we also love very much are textiles of every kind. I am a fan of the classic window decoration. On the one hand, that has the advantage also for acoustic reasons, but it also conveys a very homely ambience when you have textiles around you.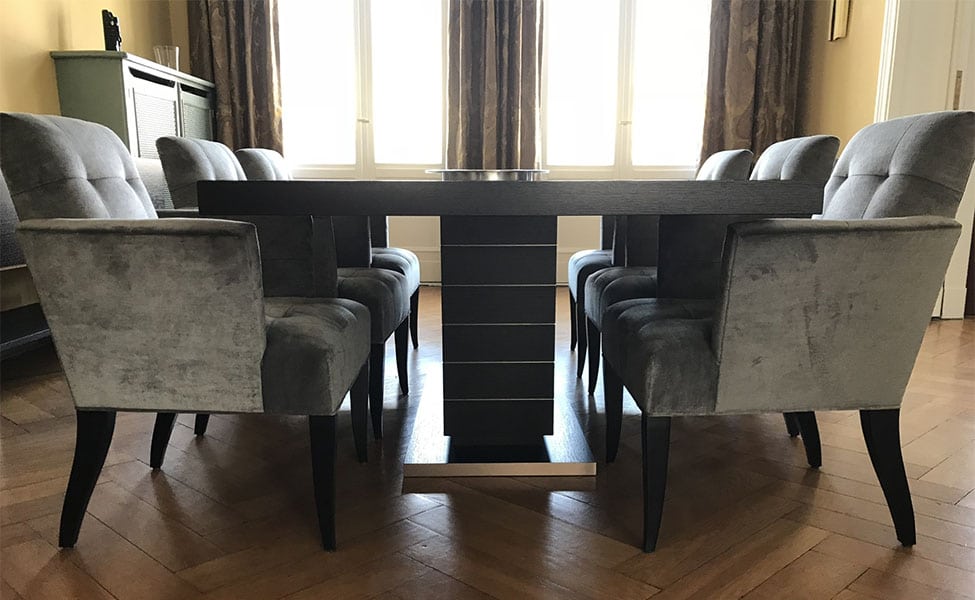 What is important to you when designing a hotel room?
The focus is on functionality, on the fact that there is certain lighting, for example, a separate reading lamp by the bed. The bed itself plays a major role in the hotel sector. Overall, the comfort and the procedures, that everything is taken into account, which makes the stay as comfortable as possible. The bathroom is also a crucial factor. We have made great strides in bathroom design in recent years. Of course, the user must also have the technical know-how available (smart home).
This year, 2019, what are special trends or what colors are particularly popular?
There is always a color of the year chosen at the beginning of the year, these are always Pantone tones and for 2019 it is the color coral. What we follow for our part, however, are natural and gray tones in conjunction with beautiful blue and / or green tones, generally bright and friendly. That's what we personally prefer. The trend is not always our friend. We strive for timeless things. But you can always consider such color trends in the form of decorative pillows. That you can then also quickly exchange again if you no longer like it.