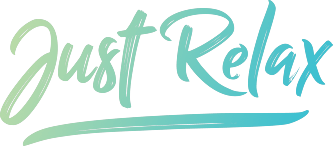 Visiting a modern penthouse in Witten with lots of light, art and a high demand for modernity.
The sense of space
A light-flooded penthouse with plenty of space for art: this spacious apartment was designed by interior designer Ilka Hilgemann of Dortmund-based raumgespür. With the help of many discussions with the owner, with a lot of love for the smallest detail and an attentive eye for the essentials, a home was created in which the owner feels more than comfortable. He is a doctor by profession, an art lover by passion and good technical equipment is important to him. Floor-to-ceiling windows illuminate well-cut rooms, sophisticated lighting technology not only puts the art in the spotlight, the bathrooms leave nothing to be desired and carefully selected colors and materials contribute significantly to the atmosphere.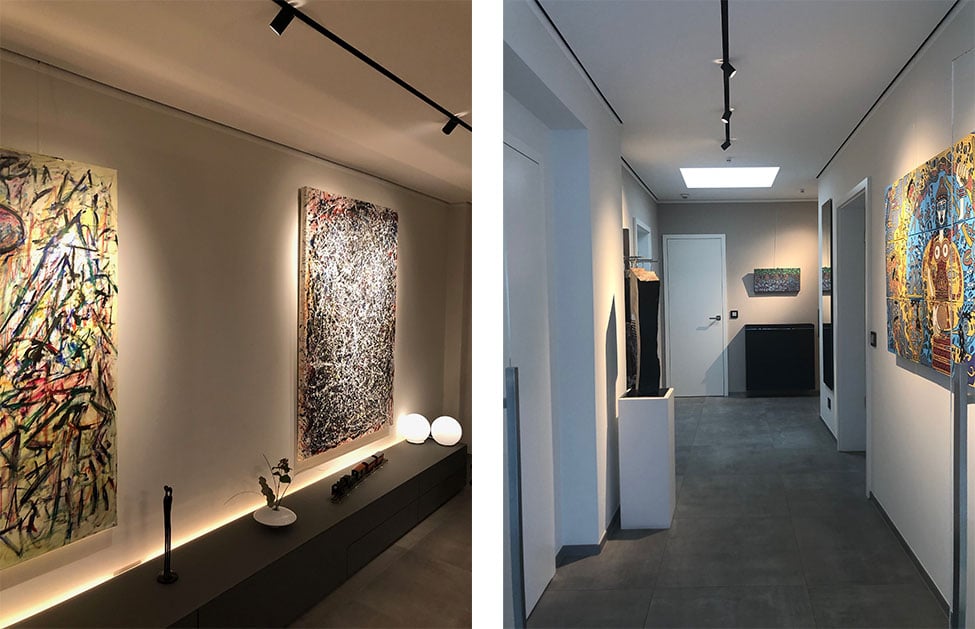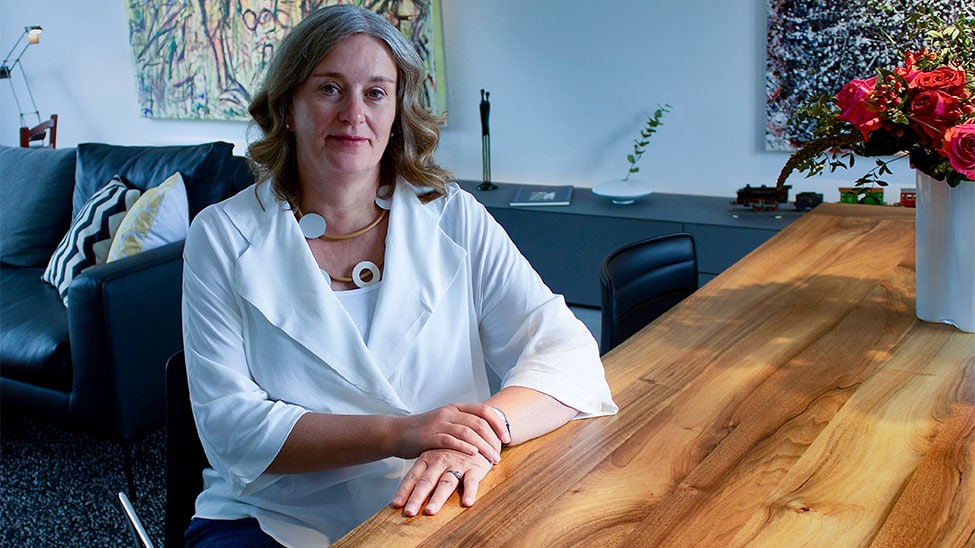 The interior designer on her journey so far and her style
What was your path to becoming an independent interior designer?
After studying interior design in Düsseldorf and Paris, I initially worked in department store construction. At the beginning of the 2000s, I had to reschedule – at a time when the economy left much to be desired. Today, thank goodness, times are good and there is a real construction boom. In 2003, I started my own business. It wasn't easy at first, probably because I didn't have the right advertising opportunities. But as it always happens, you grow with your tasks, one project results in another, clients make recommendations, the portfolio becomes more extensive – and many beautiful projects are our calling card today.
What do you love about your job as an interior designer?
Of course, I love it most of all when a project is completed: you see your ideas realized, ideally perhaps even exceeded. That makes me very happy. And, of course, it makes me happy to see how comfortable the clients feel: That is our declared goal, because we create living spaces and thus quality of life for people.
What is your personal style? How do you like a room best?
For me, the most important factors of a room are light and material – the incidence of light, the play with surfaces, with harmonies, contrasts and, of course, with colors. But ultimately, many factors make up a successful room and its qualities. I would basically describe my style as modern and simple. The important thing is that the objects can work for themselves.
Where do you get your inspiration?
Inspiration is everywhere – we have ideal opportunities today, of course. During my studies there was no internet yet, so we got a lot of inspiration from interior and living magazines. Today, of course, you can find all that on the Internet – it's ubiquitous and helps to follow and track current trends worldwide. But it is just as important to walk through the real world with open eyes and to perceive what surrounds us: Sometimes it's the little things – the inconspicuous, the often seen but never really perceived – that spark a new idea in us.
How do you go about designing a space? What are the first steps?
First, I get an overview based on the basics that are available to me – usually this is first of all the floor plan. It provides information about the proportions of the room, the size and lighting situations, and the paths between the rooms. But it also shows whether they meet the special requirements of the building owner, whether they are compatible with everyday life and whether they are practical. Based on these assessments, the discussion with the clients continues and the project is developed further together.
What have been the biggest challenges so far?
Facing special challenges is part of the job. There is a solution for everything, and often several. For example, a bathroom with three doors – anything but ideal for a retreat. Or a house without right angles – the measurement alone was a challenge, because that is the basis for all further steps. For us interior designers, it's important to take measurements again ourselves, based on the existing plans, so that we can develop custom-fit solutions for finishing and furnishing – custom-made furniture, stairs, kitchens, and so on.
What does a working day look like for you?
My working day is divided into two parts: On the one hand, the creative part, and on the other, the administrative part of my job. When it comes to building in existing structures, this naturally includes getting a picture of the building on site. This is followed by obtaining bids and evaluating them, placing orders in consultation with the clients, coordinating the trades (keyword: construction schedule) and finally site management, in constant dialog with all parties involved. Of course, all of this takes up a lot of time in the office and on site, but creativity is never neglected.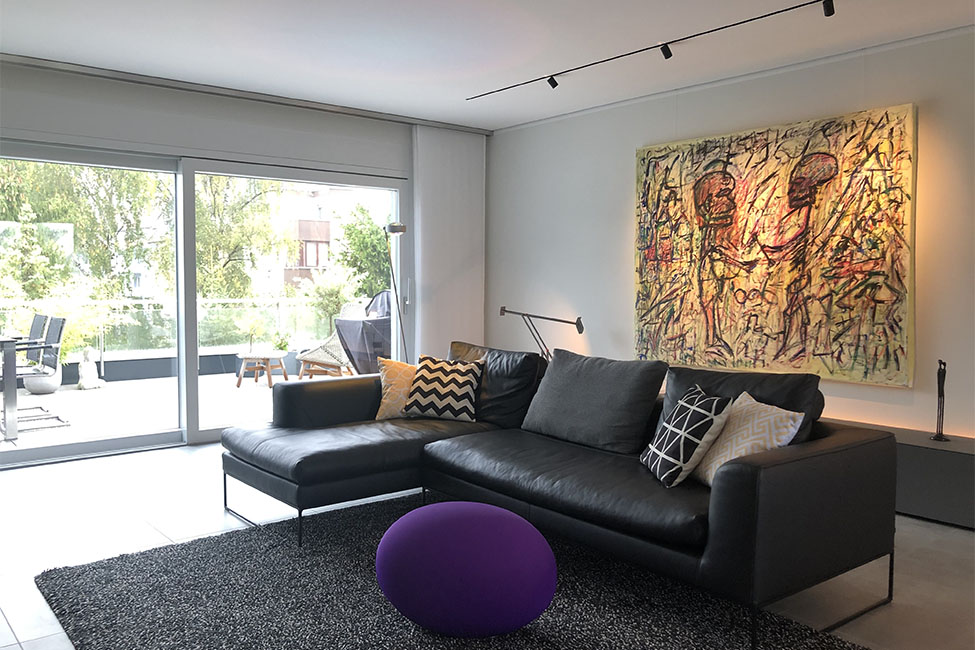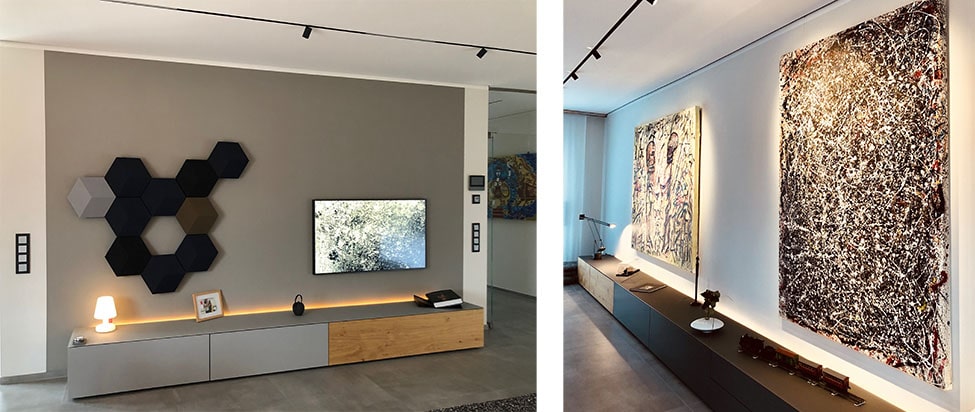 The apartment – Tailor-made for the resident
How long did the interior design of this apartment take?
This apartment was a new construction. Fortunately, the client approached me while the building was still in the shell phase, so we had optimal conditions for the design. It took about a year from the initial planning to the realization.
What three adjectives would you use to describe this apartment?
Very bright, straightforward and modern – and designed to provide the right setting for the existing works of art.
What is your personal highlight in the apartment?
The bathrooms, of course. In my eyes, a bathroom is successful when functionality and aesthetics form a perfect symbiosis. In this apartment, too, materials such as glass, stainless steel, wood, porcelain stoneware, ceramics and light composition combine to form a harmonious whole.
Were there any difficulties or special challenges in this apartment?
The planning was complicated by the unusual shape of the building with its many slopes. In addition, the original floor plan did not meet the client's wishes and requirements.
Did the apartment turn out exactly as it was planned at the beginning or were there deviations?
The client's wishes and needs made it necessary to revise the entire floor plan and redistribute the rooms, to check the realization during the construction phase and to react flexibly yet consistently. In the end, we found the perfect solutions and also implemented them.
To what extent does the apartment suit its occupant?
All of the client's wishes were realized in such a way that, by his own admission, he feels very comfortable in his home: lots of light, lots of space – and reduction to the essentials, even in the furniture, which corresponds to his sense of style. Nevertheless, personal items are not neglected: whether it's a Märklin "crocodile" train, a family photo or a cast-iron teapot by Ken Okuyama.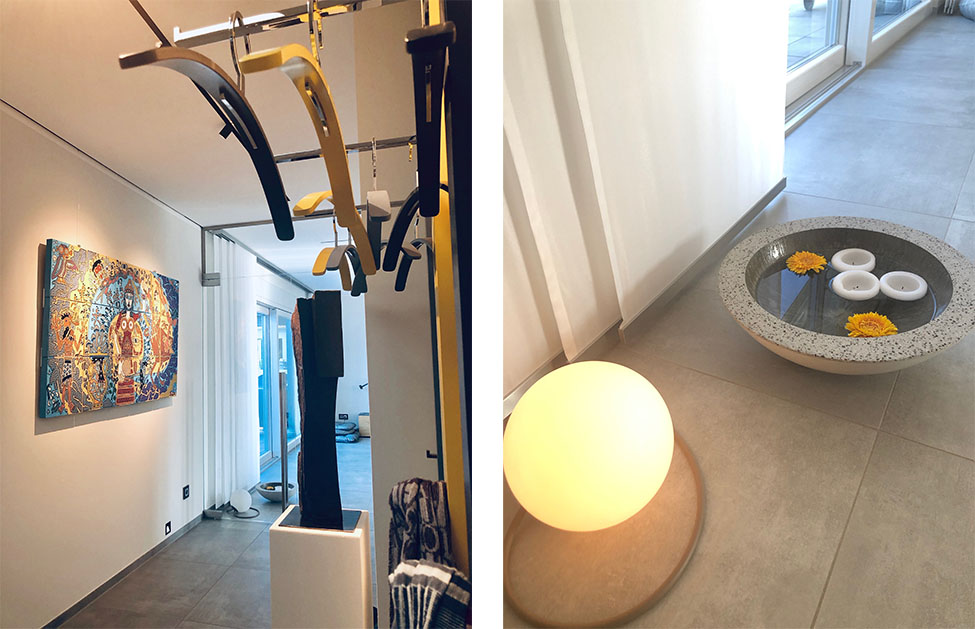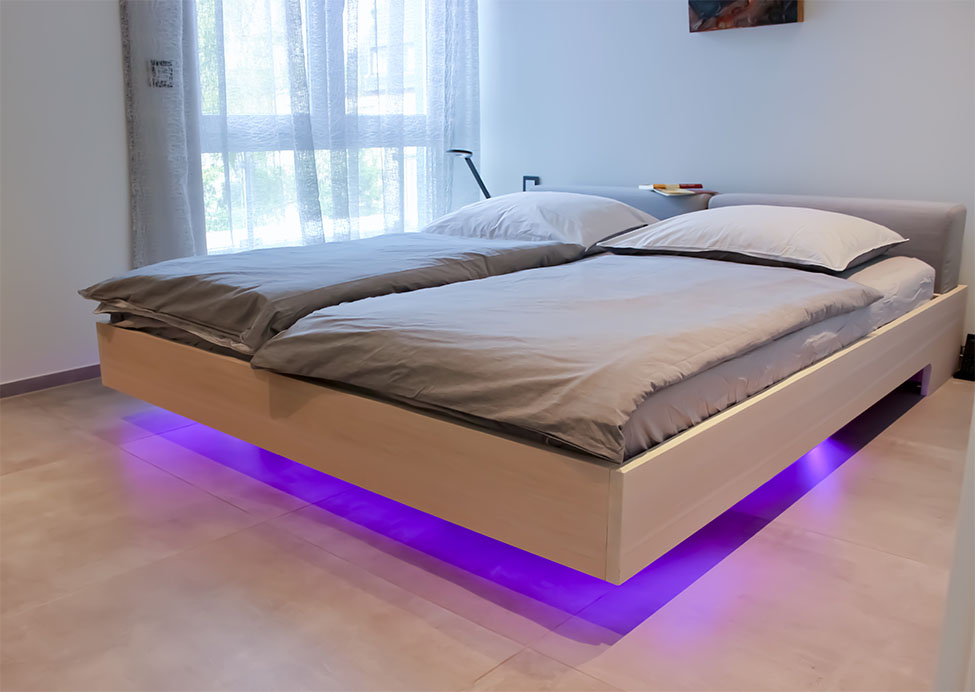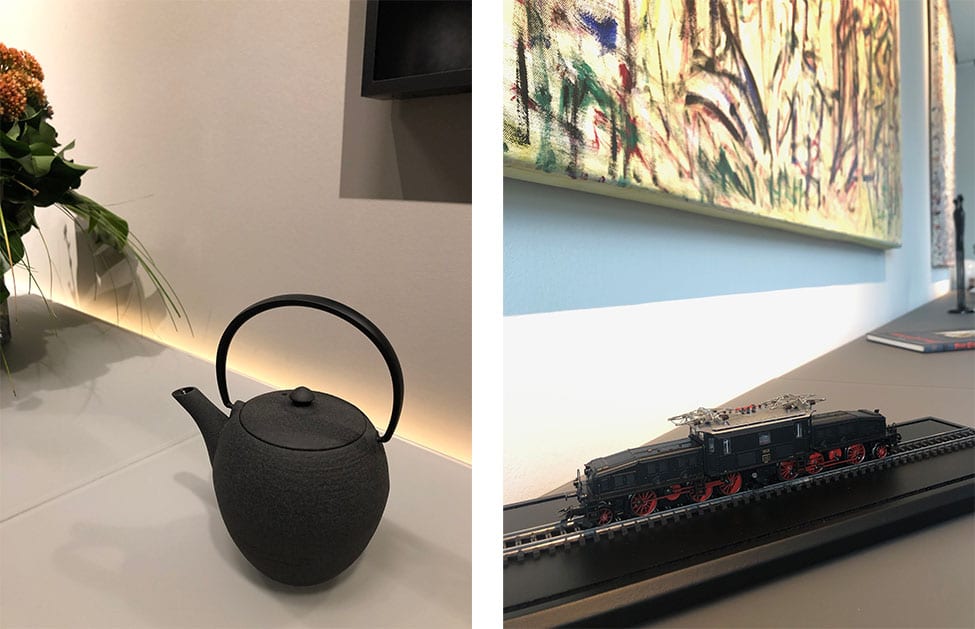 About Bauhaus, role models and the future….
What projects are you currently working on?
We are currently renovating a vacation home on Sylt and will soon be completing the extension of a large single-family home in Mühlheim. I'm also currently overseeing a new building near Hanover that is still in the planning stage. Although our focus is on private housing, we also build for commercial clients, e.g. for St. Josef Hospital or the hospice in Bochum.
What do you value most when entering an apartment or house?
Daylight, in any case. And the adequate size of the hallway is important to me, because many hallways are simply too narrow to welcome visitors. Overall, an apartment should welcome everyone with appealing design to feel comfortable there.
This year is the 100th anniversary of Bauhaus. What is your attitude towards Bauhaus?
I believe that Bauhaus took design out into the world and developed things that are timeless and still beautiful to us today. The houses may not match today's ideas of living as we have evolved in that area, but they are still a landmark of architecture and design. Ultimately, however, the Bauhaus opened up new opportunities in construction and design, especially for us women. In a way, it was a liberation that women were allowed to work creatively in the workshops for the first time. They paved the way for women to be able to work as architects as a matter of course today. The Bauhaus achieved groundbreaking things for us that must be acknowledged.
Do you have any role models?
Someone who always inspired me personally was Eileen Gray. As an interior designer in France, she designed a great many interiors, including designer furniture. Many people know the small, round multifunctional side table with the chrome frame and the glass top. She was always a great role model for me because she paid a lot of attention to details and designed individually. Her house on the French Riviera had a round glass dome that could be completely darkened by means of a special device.
What do you think will change in the field of architecture/interior design in the future?
I increasingly have the impression that the demands on living have risen. That's why I believe that collaboration between architects and interior designers will become increasingly important. In our project in Mühlheim, for example, there is not only an architect, but also a landscape architect and me as an interior designer. I hope that through close cooperation and communication, more points of contact will be created and interior design will be given a new appreciation as a result. Whether in a kindergarten or a hospice, it's always about improving the quality of life. And in order to achieve this, good communication between all those involved is very important. Ultimately, everything serves the common goal of creating individual living spaces in which the residents feel comfortable.